The United States Auto Club (USAC) has made the first deliveries of the Honda/HPD Midget Series engines to racers in the open-wheel category, marking the next milestone in Honda's continuing partnership with the sanctioning body announced in 2013.
Utilizing chassis similar to those run in the National Midget Championship, but featuring sealed, performance-capped Honda engines, the Honda/HPD Midget Series is designed as an entry-level category, where drivers as young as 12 years old can compete.
Based on the production, four-cylinder Honda K24 engine from the Honda Civic Si and developed for racing by Honda Performance Development and USAC, the sealed engines are now available through USAC for an introductory price of $9,995.00, and can be raced alongside previous-generation engines in the series. USAC worked to produce a balance of performance between the different engine designs.
"HPD has long championed a logical development ladder system for young drivers in all forms of motorsports," said Marc Sours, HPD senior manager and chief engineer. "The Honda/HPD Midget Series slots in perfectly, above our already popular Quarter Midgets and below the USAC National Midget program, where Honda engines can also be campaigned."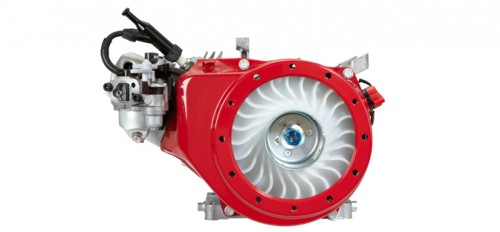 USAC sanctions six regional series for the Honda/HPD Midgets, on both dirt and pavement. The first race win for the Honda/HPD Midget engine was recorded on July 2 by Ross Rankine at Toledo Speedway, as part of the USAC Midwest Pavement Series.
"USAC is extremely excited about the Honda K24 Midget engine and the Honda/HPD Midget Series," said Kevin Miller, USAC CEO/president. "We believe this engine installation, in development for the past year, will be the basis for the next generation of Midget racing in the United States."
The 2.4-liter Honda Civic Si crate engine is adapted by USAC for Honda/HPD Midget competition. The Indianapolis-based sanctioning body is the single source for purchasing new engines, which are tested and sealed by USAC prior to delivery. The engine internals are all Honda OEM, with competition modifications including a custom aluminum oil pan designed for dry-sump lubrication, a three-stage oil pump, competition alternator, intake manifold and custom air inlet system.
The wiring harness has been modified to allow ease of use, and all connectors are clearly marked for installation. The harness design also provides connections for USAC technical inspectors to maintain parity in the series.
About Honda Performance Development
HPD was founded in 1993 as the performance arm of American Honda, to spearhead the company's entry into Indy car racing. No other manufacturer has matched Honda's success in Indy cars, which includes 211 race victories, 15 drivers' championships, six manufacturers' championships and 10 Indianapolis 500 victories, including this year's triumph by Ryan Hunter-Reay. In 2013, Honda powered veteran Scott Dixon to four race wins and the 2013 IZOD IndyCar Series championship.
HPD's prototype racing efforts have resulted in more than 70 victories and multiple American Le Mans Series championships. The company's sports-car racing debut in 2007 at the 12 Hours of Sebring marked the first win for HPD's LM-V8 engine and the first for a Honda racing engine designed and developed outside of Japan.
HPD won the LMP2 title in the inaugural 2012 World Endurance Championship and has twice won the LMP2 category at the 24 Hours of Le Mans since 2010. In 2013, HPD and Honda again swept the LMP1 and LMP2 manufacturers', engine, team and drivers' championships in the American Le Mans Series; while HPD-equipped Strakka Racing claimed the LMP1 class win at the 24 Hours of Le Mans for private team entries.
HPD participates in competition on both two wheels and four. The company offers a complete line of race engines for cars from grass roots to pinnacle; for professional, amateur and entry-level racers. For more information about HPD and the company's racing and Street Performance product lines, please visit http://hpd.honda.com.
via Honda