The all-new ZX-10R has made its debut today in Barcelona, Spain and while the bike looks quite similar to this year's version, little has been left unchanged under the fairing. The most important changes include a more torquey engine, new electronics, revised frame and swingarm, brand new forks and Brembo brakes. There's been no word on price just yet, but the bike is expected to hit dealer showrooms early next year.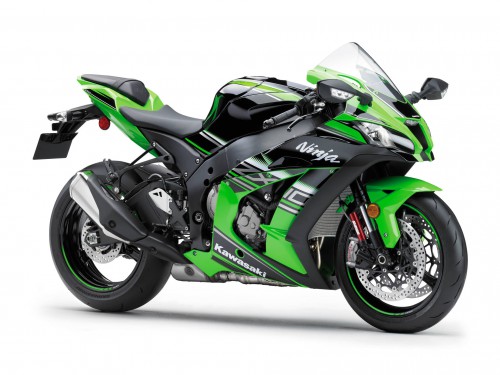 Developed in close cooperation between KRT and Kawasaki factory in Japan, the ZX-10R for the coming year has benefited from the input of two Kawasaki Superbike champions, Jonathan Rea and Tom Sykes.
Instant visual clues are provided by a cowling with more volume than previous, a wider tail section and other subtle changes. More obvious is the adoption of Brembo M50 monobloc brake calipers, a Brembo idle stroke checked radial pump master cylinder and WSBK style Showa front forks.
Created across a prolonged period of testing and development in an exclusive arrangement with KRT, the balance free design of the fork and rear shock for a road bike application is being vaunted by Kawasaki as a major step forward for a customer machine that will be available in showrooms at the start of 2016.
A machine which gives up the secrets under its skin willingly, the new Ninja is the first Kawasaki to feature an Inertial Measurement Unit as part of its electronic rider aid package featuring five axis measurements in the Bosch IMU and a sixth measurement using a unique Kawasaki programme stored in the ECU. Combining these the machine is well equipped with advanced traction control, launch control, engine power selection and high precision brake management, the later allowing riders to hit their desired apex on any given corner – even when braking.
Benefitting from a crankshaft with 20% less inertia than the current model plus numerous other weight savings and upgrades, the 2016 litre class machine exhibits noticeably stronger power in the mid-range without any effect on its 200ps peak power; as well as being Euro4 compliant before many of its rivals. Most important facts here: 200 hp, with a peak figure of 207 hp with ram air and 113.5 Nm (83.6 lb-ft) at 11,500 rpm.
Key highlights of the 2016 ZX-10R:
More powerful 998cc in-line four-cylinder 16-valve engine
Lighter crankshaft allows quicker revving and increased low-mid-range power
Pistons, head design, camshaft profiles and air box for better response and power
Computer-controlled electronic throttle valve delivers precise control
Lightweight titanium exhaust system
Close-ratio, cassette-type transmission is ideally suited to racing and gives strong corner exit acceleration
Chassis with new steering head position, swingarm rigidity and length, longer wheelbase creates balanced handling
Front cowl provides better aerodynamics, improves high-speed handling, reduces rider buffeting
Showa Balance Free Fork (BFF) and Balance Free Rear Cushion (BFRC) derived directly from World Superbike racing, first-time used on a mass-production motorcycle
Brembo M50 monobloc front calipers, 330mm Brembo rotors and master cylinder provide increased braking power, feel and heat dissipation
Electronics suite utilizes a Bosch five-axis IMU for KEBC Kawasaki Engine Braking Control, KLCM Kawasaki Launch Control Mode, KIBS Kawasaki Intelligent anti-lock Braking System, Corner Management Function, S-KTRC Sport Kawasaki TRaction Control and KQS Kawasaki Quick Shifter
Kawasaki Racing Team-inspired KRT Edition color scheme combining Lime Green and Ebony paint
Metallic Matte Carbon Grey finish
Kawasaki 2011 2012 2013 2014 2015 ZX10R Fender Eliminator Plate Bracket
Source: Kawasaki