Suzuki MotoGP Test Team rider Nobuatsu Aoki is making a strong recovery from the high-speed crash he suffered at last month's Suzuka 8-Hour World Endurance Championship race in Japan and could be back testing as early as next month.

The 42 year old, who was part of the Legend of Yoshimura Suzuki team alongside former World 500cc Champion Kevin Schwantz and former Japanese Champion Satoshi Tsujimoto, hopes to have the cast removed from his hand soon so he can start rehabilitation.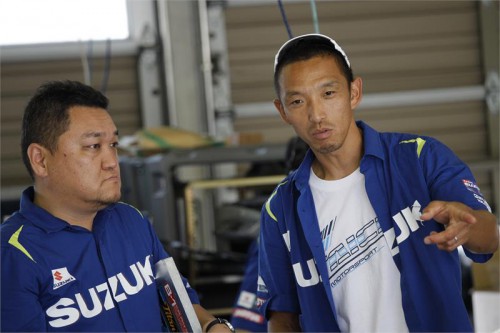 Aoki, who recently received a Suzuki Flag with get-well messages from Suzuki Motor Corporation staff and top-level management said: "I'm eager to have my plaster off as soon as possible, but I need to be cautious with the broken finger joint and not rush it. It was great to receive all the well-wishes from Suzuki recently, which really cheered me up; it's wonderful to have this support from so many good people." 

Depending on the injury healing fully, Aoki may get back on a bike later this month at a private test in Japan and depending on that, could be at the next European Suzuki MotoGP tests in September. 
via Team Suzuki Press Office