With an enviable record of achievement in one of the most challenging of motorcycle racing disciplines, Kawasaki Motors Europe have confirmed their official support for the SRC Kawasaki team in selected rounds of the 2014 World Endurance Championship and beyond.
As a pre-cursor to a more comprehensive assault in the 2015 season, the company has pledged support for the French based SRC Kawasaki enterprise managed by Gilles Stafler and a three rider "dream team" for 2014 of Gregory Leblanc, Fabien Foret and Matthieu Lagrive with Nicolas Salchaud in reserve.
In this, the year that the iconic Ninja brand celebrates three decades of production, the timing of an announcement was perfect according to Mr Keisuke Goto, Branch Manager of Kawasaki Motors Europe, French Branch.
"There exists a wealth of achievement for Kawasaki teams and riders in the World Endurance Championship, be that on an official or private entry basis. Kawasaki machinery has garnered many podiums and an enviable number of World Endurance Championships. Increasing our existing interest to announce this officially supported effort seemed entirely appropriate in this, the thirtieth year of the Ninja given that Kawasaki holds the current World Superbike Championship with Tom Sykes and the Ninja ZX-10R".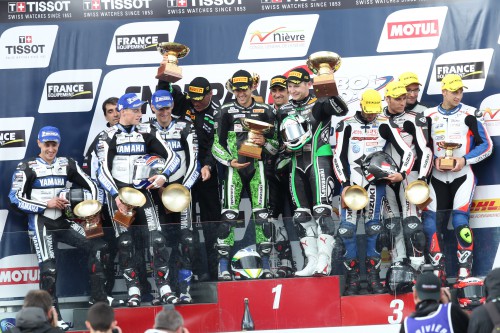 Expanding its involvement with the highly successful SRC Kawasaki team, the intention is to use the remainder of 2014 as preparation for as more concentrated assault in the following season. And with the services of highly respected riders and an equally highly considered pit crew plus team support staff, Mr Goto believes there exists a platform for even greater success.
"Already the formidable SRC Kawasaki team have won many 24h races and shown incredible consistently achieving wins at the Le Mans endurance event four years in a row. Of course it is our joint ambition now to extend that consistency to other races and to focus on overall honours. It is a hard task but our goal is to fight for first place in the World Endurance Championship in 2015."
On behalf of SRC Kawasaki, Team Manager, Gilles Stafler, welcomed Kawasaki's increased commitment and expressed optimism in terms of the team's chances of success.
"There have been rumours circulating for some time that Kawasaki was returning to the World Endurance Championship and I am understandably happy that this participation will be centred on SRC. The team is ready for a world attack with experienced staff; some with more than 25 years with Kawasaki machinery. In fact I started myself with Kawasaki in 1993 so I too have a good understanding. The stability of the team is great and that makes it strong. Moreover they are all good friends and it is like a family.
Honestly speaking, this is a dream come true for all of us within the team. We have won many 24h races in the past few years and we will do everything within our power to win yet more races and, ultimately, take the World Endurance crown with a Ninja ZX-10R machine".
via Kawasaki