MV Agusta will release a limited edition F3, a road-going replica of the F3 race bike by Jules Clauzel and Lorenzo Zanetti in the World Supersport championship. MV Agusta will only produce 350 units – 100 in 675cc form and 250 in 800cc versions, so you should act wuickly if you want to get one. The special F3 will go on sale in Italy and will retail for about 17,000 Euros. Each bike will be autographed by both Cluzel and Zanetti.
The F3 RC, produced in a limited edition of 100 bikes in the 675 configuration and 250 in the meatier 800 configuration, faithfully reproduces the graphics of the Jules Cluzel and Lorenzo Zanetti motorbike. To certify the originality of each bike, every F3RC is autographed by both riders, #16 Cluzel on the right side panel and #87 Lorenzo Zanetti on the left.
The special F3 is equipped with an anodised aluminium cover set to be fitted in place of the rearview mirrors, clutch and brake levers in Ergal with anti-break joint, single-seat tail cover, Ergal running boards and rear racing stand. We have to say, the F3 RC is one beautiful and angry-looking bike with this paint scheme.
F3 RC 675
The engine is produced in two sizes, 675cc and 800cc. The power plant is an extreme over-square unit with 79 mm bore and a stroke of just 45.9. The smaller version is capable of delivering 128 hp at 14,500 rpm and a maximum torque of 71 Nm at 10,600 rpm.
F3 RC 800
The larger version keeps the same bore of 675 with a longer stroke, which increases from 45.9 mm to 54.3 mm. The increase in cubic capacity brings with it a net gain of 20 horsepower, achieving a maximum power output of 148 hp at 13,000 rpm, with torque standing at 88 Nm at 10.600 rpm. The limiter is set to cut in at 13,500 rpm. The higher horsepower made it possible to fit a longer final ratio, which increases from 16/43 on the 675 to 17/41 on the 800, which is capable of 270 km/h, while the smaller 675 stops at 260 km/h.
R&G (Aero style) no-cut Frame Sliders, MV Agusta F3
The weight of the bike is also impressive – it weighs just 173kg. In addition to that, the F3 RC is equipped with top-shelf suspension parts, including a sophisticated Marzocchi fork with 43 mm diameter rods, Sachs monoshock at the rear, and Brembo brakes with Nissin radial pump. The factory-fitted tyres are Pirelli Diablo Rosso Corsa. The sizes are 120/70-ZR17 at the front and 180/55-ZR17 at the rear.
The special F3 will go on sale in Italy and will carry a price tag of 16,600 Euros and 17,210 Euros, respecively.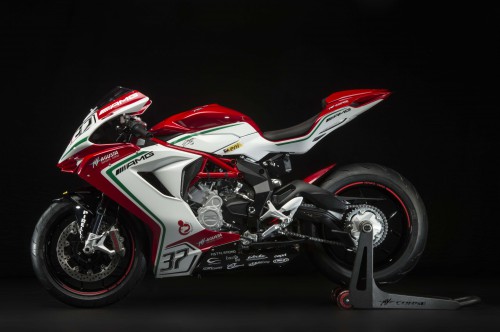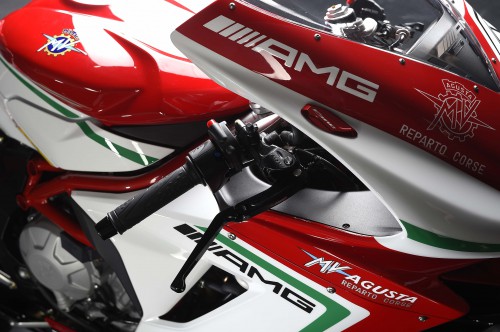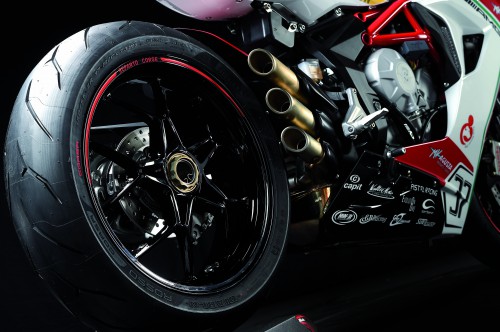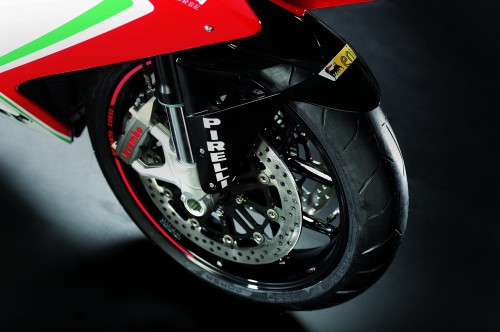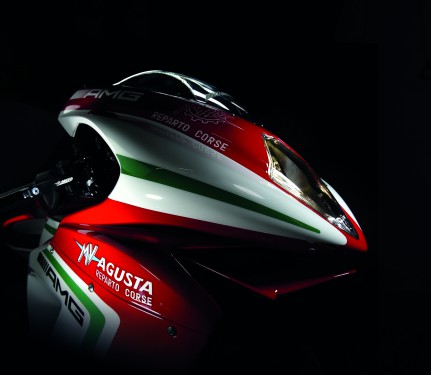 Sato Racing Left Engine Slider for MV Agusta F3 ('12- ) MV-F312ESL
Source: MV Agusta