Sometimes bike manufacturers just get it all wrong. Now, we collected the worst of the worst, the really ugly motorcycles in the history of two-wheelers. Nobody said designing a motorcycle was easy, but don't break the basic principles and go for sharp and muscular. Unfortunately, many designers break these rules and that's the reason why choosing the ugliest motorcycles of all time is not easy at all. Here's the second part of our list, in no particular order.
To read the first part of the article, click here.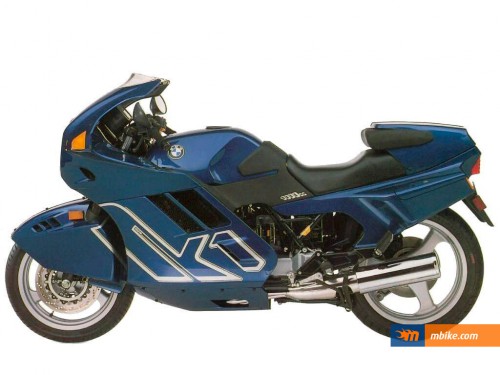 1988 BMW K1
This large cruiser was designed to change the public's image of BMW as a manufacturer that only produces flat-twin tourers. Well, if you look at this way, it worked. When I first saw the K1, the first thing that came to mind was a coffin. The K1 was built for high-speed cruising on the Autobahn. In order to do so, the German designers created a radical aerodynamic design that resulted in the drag coefficient of 0.34, the lowest of any production motorcycle in 1988. The K1 featured a stiffened chassis, a 1000cc inline-four and a five-speed gearbox. But the addition of the aerodynamic bodywork and general upgrading of engineering and components added to the weight, which meant that the K1 was quick but not fast. There were other problems, too. The K1's fairing retained excess heat below 50 mph (80 km/h), and in some cases caused burning injuries. At almost $13,000 it was also expensive. BMW sold just under 7,000 units until 1993 – the year when the model was canceled.
1995 Aprilia Starck Moto 6.5
The Aprilia name has become synonymous with two-wheeled style and success. They always went for beauty but sometimes it just didn't work out – the Starck Moto 6.5 was one of those bikes.  It was created by French star designer Philippe Starck but Aprilia was doomed to failure from the start, with dynamics that failed to match its radical looks. The bike was supposed to be a chic town motorcycle and that's where it works best: nimble steering, narrow seat and plush, pot-hole-proof suspension makes it ideal at traffic carving. The problem was the engine: the Rotax quickly runs out of puff if pushed hard. In addition to that, build quality was flimsy and corrioson was a big issue, too. The model was deleted after just two years. (It was exhumed in 1999 for three more years, though.)
Dan Gurney Alligator
The Alligator has some surprisingly cinvincing numbers: its 710cc Honda single makes around 70 horsepower and accelerates the bike pretty good: 0-60 mph takes just 3.1 seconds and top speed is 140 mph (230 km/h). The fact that the bike just weighs 320 pounds means that it could embarrass many sportbikes at the time. The Alligator features hydraulically damped telescopic front forks and monoshock rising-rate rear suspension. But that design! Gurney put the "rider on top, motor in middle, wheels at both ends" formula aside and designed a bike that landed in all of the motorcycle magazines. But the Alligator was always just a semi-serious side project for Gurney and he sold only a couple of units – for $35,000. It's no surprise when you think on the non-existent comfort of the Alligator.
2010 Honda DN-01
We still haven't figured it out what the plan was when Honda designed this one. The DN-01 is just an overpriced ..er what exactly? Is it a cruiser? Is it a scooter? The DN-01 is hard to categorise. It's automatic so it's more like a commuter and it is sure as hell that it's a great attention-grabber. Problem is, it's very, very heavy and it's too complicated. The DN-01 is powered by a version of the Honda Deauville's 680cc V-Twin lump that delivers 51 hp and that's simply not enough to move 270 kg plus rider. Other issues: uncomfortable seat, no wind protection at high speed, no storage space at all, high price tag (US$14,599 in the US), limited load capacity and bizarre design. The only feature that impressed many riders was the unique continuously variable transmission (CVT) technology but that did not save the DN-01. The bike went on sale in Japan and Europe in 2008, in the United States in 2009, and was discontinued at the end of 2010.
1960 Harley Davidson Topper
Did you hear the funny story about the big American motorcycle manufacturer that decided to take on the challenge of the European scooters? Yeah, that doesn't sound good. The result of this was the Harley-Davidson Topper, a scooter with a box-like design that many considered Harley's worst design. It was powered by a two-stroke engine that didn't have a cooling fan so the bike overheated all the time in stop and go city style traffic and it was unreliable in general. But if you were going to take a motorcycle on a road trip, the Topper probably won't be your first choice and not because of its unreliability but because of its looks. It's just ugly as hell!