Yamaha has teamed up with the famous German Motorcycle customizer Marcus Walz for the third project within five years to create a stunning YARD Built concept based on the Yamaha XV950. The result, called 'El Raton Asesino' is a faithful Cafe Racer in iconic Yamaha livery. Inspired by Yamaha's halcyon days of racing in the seventies where riders such as Kenny Roberts Jr. imprinted Yamaha's speed block design onto the minds of motorcycle fans across the world, 'El Ratón Asesino' is an understated masterpiece with a super clean design and build.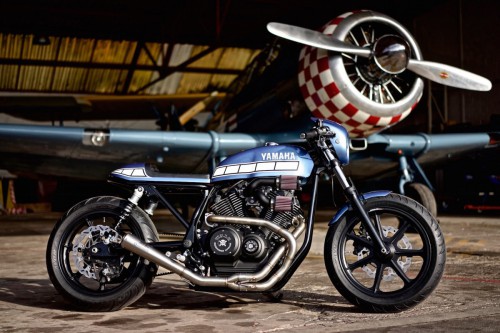 Walz transformed the rear end of the XV950 to develop a classic café racer line by modifying the standard swing arm and building a custom rear sub frame from scratch. Mini LED units are integrated into the rear frame in place of the standard tail-lights. A hand shaped fuel tank with Monza style filler cap was added at the front along with a custom designed headlamp cowling and a one-off custom tail unit topped with a hand stitched leather seat. The front fender is custom made in-house as is the bracket holding it.
If you are interested in leather side bags for Yamahas, see this 2014 Yamaha Bolt Cruiser Rigid Mount Leather Saddlebags Side Bags Oxblood
The ride gets a full work over with the stock front-end suspension unit modified and lowered with prototype progressive springs whilst the rear gets fully adjustable Öhlins shocks. The stripped back racer rolls on prototype hand-cast magnesium wheels by Marvic with custom adapters made in house. Custom rear sets change the ride dynamic giving a sportier sitting position for the action.The café racer look continues with LSL clip-on bars holding a quick throttle system, custom switchgear, LSL master cylinder and LSL adjustable clutch and brake levers all topped off with custom bar-ends. Sitting in the middle of the action is a Moto Gadget 'Tiny' tachometer. The XV950's heart doesn't get overlooked with custom cylinder-head plates and engine casings and a custom manifold feeding an SC-Project exhaust.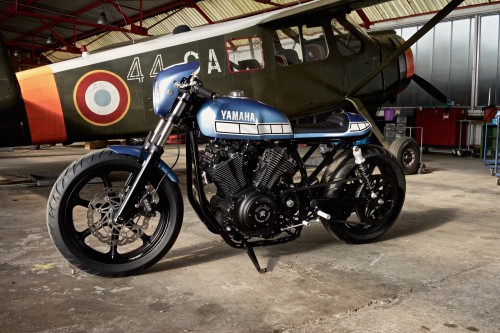 To get that super clean look Walz ditched the ABS system and standard battery, building a custom wiring harness that hides inside the fuel tank and feeds power from a tiny 400 gram GP style lithium battery hidden in the tail unit. The ignition switch is also eliminated with an adapter kit, reducing weight further. Modified front and rear brake calipers clamp on to Wave rotors front and rear for stopping power and the bike is finished with a stunning pale blue retro paint job, pin striping, and of course Yamaha speed blocks!
"This isn't just a concept build for me," comments Marcus Walz. "My first experience of motorcycles was with Yamaha at the age of 15, I had Kenny Roberts posters on my wall, the yellow YZ500 with the 'speedblock' design. My first bike was also an RD80 that I customised to look like Kenny's so my bike roots begin with Yamaha. This build is my journey from first bike experience to now, so thanks Yamaha for the memories!"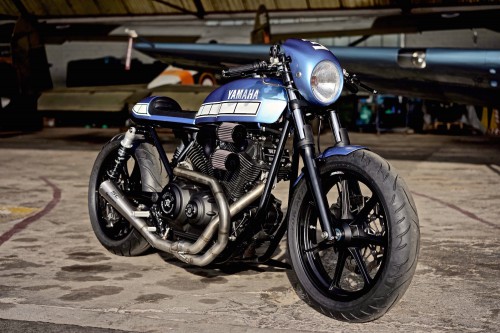 If you are interested in solo seat springs for cafe racer, see this Chrome Solo Seat 3″ Springs Cafe Racer Bobber Chopper Custom for Harley Davidson, Suzuki, Kawasaki, Yamaha, Triumph, Honda Cb Xs Gs Kz Xl
"This is our third project with Marcus now in our five-year relationship," said Shun Miyazawa, Yamaha Sports Heritage Product Manager. "We came to him looking for inspiration for future models and as always the collaboration has proved very successful. His work using racing design and parts in his custom builds is really interesting and we are really pleased with what he has created with the XV950 as his base. El Ratón Asesino really fits well with our Yard Built platform."
Source: Marcus Walz Cycles